Danish Standard Motor Tramp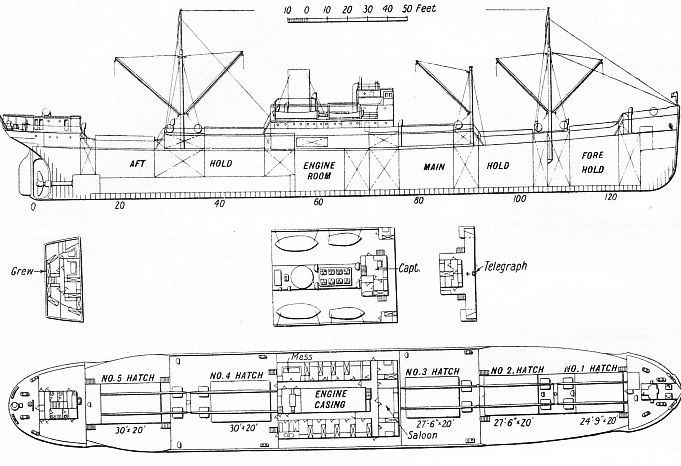 ALREADY in this series we have published drawing of a typical British motor tramp. Above is a drawing of a vessel standardized by Burmeister and Wain, of Copenhagen, some little time ago, and sold to a number of owners in Denmark and Norway. She differs in many ways from the Doxford standard tramp, of which a drawing appears in the chapter "The Peebles".


The Bornholm (above) is a vessel of the long bridge type, with a short forecastle, long central bridge structure and short poop. All accommodation is arranged amidships on this bridge-deck, on which also are two hatches serving the holds forward and abaft the machinery space respectively. The size of these hatches is indicated on the drawing.


The arrangement of accommodation in the

Bornholm

is rather an unusual one, for many motor tramp vessels tend to follow popular steamship practice as much as possible, with one structure round the engine casing and a separate structure at the bridge. The

Bornholm

has three holds, respectively fore, main and aft, and it will be noted that there are grain centre-line divisions. The ship is well able to deal with all the standard tramp cargoes namely coal, grain and lumber, if necessary.


The

Bornholm

is owned by the Dansk-Franske Company and was completed in Copenhagen in June 1930. She has a gross tonnage of 3,177, a length of 326 ft 2 in, a beam of 50 ft 1 in and a depth of 20 ft 10 in. She has a speed of about 10½ knots when drawing 20 ft 6½ in, and she used about 5 tons of oil a day for all purposes. She is driven by a four-cycle single-acting diesel engine with 6 cylinders of 21·65 in diameter and 59·06 in stroke, the total power developed being 1,250 bhp at 105 revolutions. All the auxiliary machinery on deck and in the engine-room is electrically operated.


The

Borholm's

main engine is of a type which was at one time popular with all Scandinavian owners of cargo ship tonnage. This type has been succeeded in later ships by engines capable of delivering, generally speaking, more power in less space and with little increase in fuel consumption. This means a shorter engine-room.


Another point in which the

Borholm

type differs from British motor tramps is in the auxiliary drive. This is all-electric, taking current from diesel generators in the engine-room, which also supply the cargo winches. Many tramp owners consider the steam winch more suited to the wide variety of ports at which they touch. Although they appreciate the fuel economy of the diesel for propulsion, they prefer to use its exhaust heat to generate all the auxiliary power necessary for the ship at sea in an exhaust gas boiler which, when fired, runs the winches in port.