A Special Service Train Ferry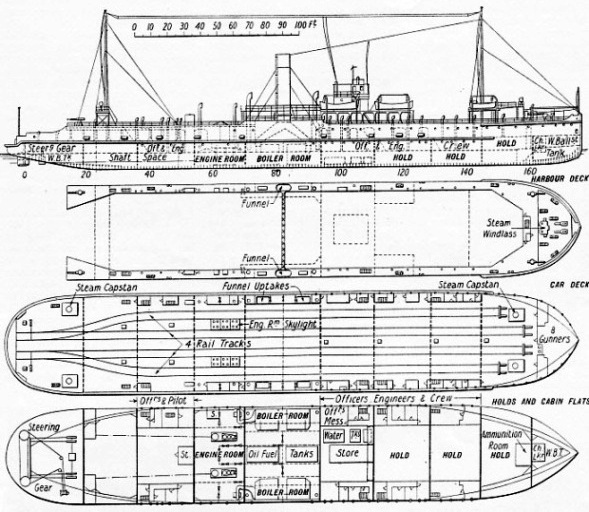 The drawing above illustrates a type of vessel employed in the carriage of railway goods wagons from Harwich to Zeebrugge. This vessel, known as Train Ferry No 3, was built in 1917, and was armed. She originally ran from the artificial port of Richborough, in Kent, to French ports, loaded with hospital trains, locomotives and wagons for heavy guns. She was taken over by Great Eastern Train Ferries Ltd, after the war of 1914-18, and converted from coal to oil-burning. She is now owned by the LNER.


She differs from the vessels on the Dover to Dunkirk service in that there is no passenger accommodation, and no provision is made for passenger cars. She has an overall length of 363½ feet, a beam of 58½ feet, and a draught of 10 feet. Her gross tonnage is 2,672 and her deadweight tonnage 960. There are four sets of rails on her deck, and propulsion is by means of twin-screw reciprocating engines taking steam from four Scotch boilers and giving the vessel a speed of twelve knots. Above are shown the large water ballast space forward and aft and the arrangement of the boilers on either side of the fuel spaces. The drawing also indicates the ship as she was originally completed with guns, oil fuel tanks, ammunition rooms and cabins for gunners. The widely spaced funnels give the ship a peculiar appearance. Another feature of this vessel is the twin steering gear, one rudder being arranged behind either screw. There are not many twin-ruddered ships, and such an arrangement is usually adopted where quick "manoeuvrability" is needed.


Train Ferry No 3 has three large cargo holds forward of the machinery space. These were originally intended for the carriage of military stores and ammunition. Her machinery is farther aft than is usual in most train ferries.


Although it is built up forward her structure is not as high as in some train ferries, particularly those on the Great Lakes of North America, where severe winter conditions are encountered. Her bridge structure, too, is abaft a light bridge forward. This light bridge was intended for the carriage of searchlights.


You can read more on "The Dover-Dunkirk Train Ferry", "Floating Railways" and "The Twickenham Ferry" on this website.
You can read more on "Train Ferries" in Railway Wonders of the World