A Lubricating Oil Diesel Tanker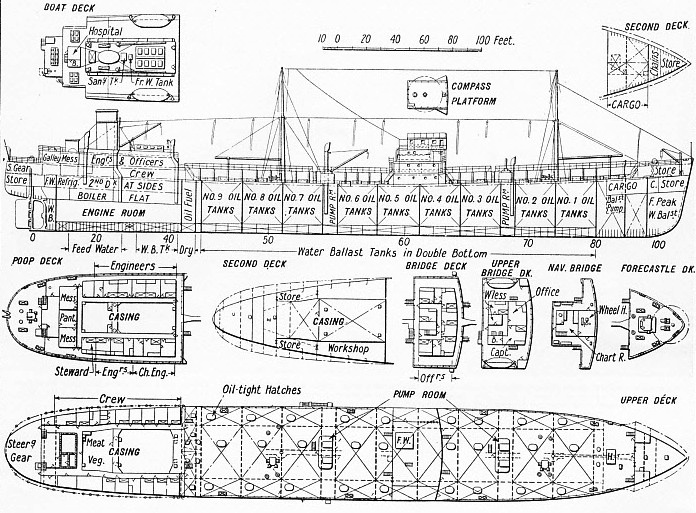 ABOVE is a drawing of the Comanchee, one of the most interesting and important tankers flying the Red Ensign. She was delivered to her owners, the Anglo-American Oil Company, by John Brown & Company, early in 1936. Another illustration of her appears in the chapter on "The Development of the Oil Tanker".


Of the many oil-carrying vessels built during recent years, few have been designed, as the

Comanchee

has been, for the express purpose of transporting in bulk many grads of lubricating oil.


She has frequently to discharge complete cargoes at Manchester and her dimensions were largely governed by the dimensions of the locks on the Manchester Ship Canal. Even so she is much bigger than any of the previous vessels built for the carriage of lubricating oils. She has a length between perpendiculars of 445 feet, a moulded beam of 61 feet and a moulded depth of 32 ft 2 in. The deadweight capacity is 10,310 tons and the summer draught 26 ft 4 in.


The cargo space is divided by two longitudinal bulkheads and by transverse bulkheads into 27 separate compartments, with two cargo pump-rooms fitted with eight independent pumps. This permits of the carriage of many different grades of lubricating oil. Heating coils are fitted to those tanks intended for transporting the heaviest grades, and the vessel is equipped also with the Butterworth system of tank cleaning. In this system jets of hot water at high velocity are automatically projected against every part of the vessel's tanks, ensuring a perfectly clean condition before reloading.


One of the great disadvantages in the older design of tanker is the necessity of carrying water ballast in the cargo tanks. In the

Comanchee

this has been obviated by the fitting of a special double bottom for water ballast.


The hull is built on the Isherwood system, and the general arrangement is typical of many tankers to-day, high-class accommodation being provided for officers and crew. The captain, officers and wireless operator are accommodated in a house just forward of amidships and, in accordance with the standard practice of the owners, the engineers, crew and all messroom arrangements are aft.


Propulsion is by a four-cylinder Doxford opposed piston diesel engine, which gives the ship in service a speed of 13 knots when developing about 3,000 bhp.