Striking pictures of the launch of the "Principessa Jolanda"
THE LARGEST VESSEL OF HER TYPE so far built in Italy, the Principessa Jolanda was being launched on September 22, 1907, near Spezia, in the Gulf of Genoa, when an inexplicable incident happened. A large section of the cradle clung to the hull and burst into flames, causing the vessel to incline at an angle of 60 degrees. The

Principessa Jolanda

described a curve to the eastward and turned on her side. The

Principessa Jolanda

was 485 feet long and had a breadth of 49 feet. Her displacement was 10,500 tons. She was designed to carry 180 first-class, 170 second-class and 1,100 third-class passengers, in addition to a crew of 240.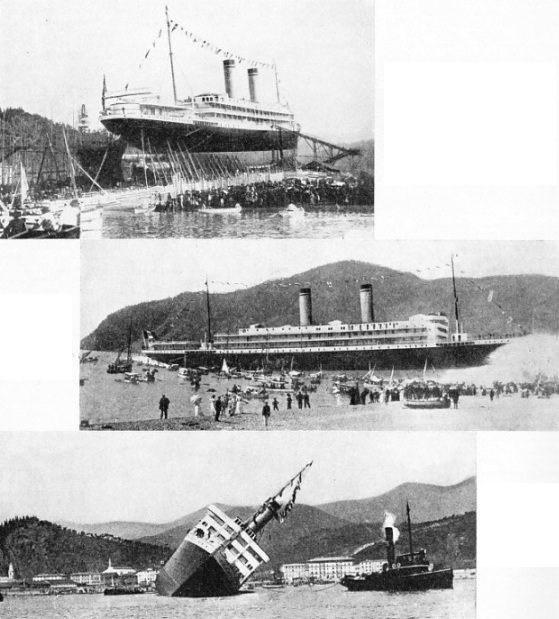 This photograph shows the liner about to take to the water.








TAKING THE WATER on the occasion of her inauspicious launch, the

Principessa Jolanda

is about to make her first and last acquaintance with the waters of the Mediterranean.


INCLINED AT AN ACUTE ANGLE. Having left the launching platform, the luckless vessel was plunging into the water at the moment when this photograph was taken.






THE BOWS OF THE

Principessa Jolanda

during her brief career. The tugs which accompanied the launch were unable to do anything to prevent the disaster. Happily no lives were lost.


LISTING HEAVILY, the Italian liner, gaily dresses for the occasion of her launch, is about to turn over on her side. Her launching value was about £200,000. When completed, the

Principessa Jolanda

was intended to have 10,000 horse-power engines.


HELPLESS SPECTATORS who had come to see a triumphant launch watched the final moments of the

Principessa Jolanda

as she began to disappear from view. The largest Italian liner at the time of her launch, she had bunkers designed to carry 2,500 tons of coal.


(Bottom photo) AT REST and on her side. Vain efforts were later made to raise the vessel. Some of the boilers were salved after the superstructure had been blown away. Everything else had to be abandoned.