Sailing Ships in Collision
Striking pictures of the collision between the sailing ships "Ditton" and "Port Jackson" off Newcastle, New South Wales, April 1902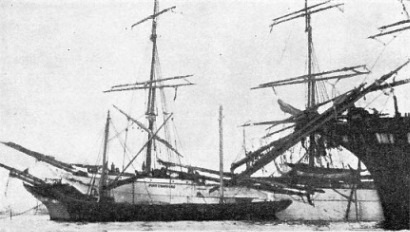 IN SQUALLY WEATHER the Ditton had one tug to tow her into Newcastle Harbour, New South Wales, in April 1902. Lying at the Farewell Buoys were the Port Crawford and the Peeblesshire, loaded and ready for sea. A heavy squall struck the

Ditton

and the force of the wind caused her to break her tow rope.















The

Ditton

ran straight into the

Port Crawford

and her bowsprit knocked the foremast out of the stationary vessel.





























































Heavy damage was inflicted on the

Port Crawford

and the

Ditton

, but the

Peeblesshire

was protected to a certain degree by the

Port Crawford

. The

Ditton's

bowsprit snapped off close to her bows, and one man, who was making fast one of the jibs on the bowsprit, was killed. The

Peeblesshire

was a vessel of 915 tons gross, built at Port Glasgow in 1879. She had a length of 200 feet, a beam of 32 ft 8 in and a depth of 19 ft 7 in. She ended her days under the Norwegian flag and, as the

Bergliot

, was wrecked in February 1907.























































BUILT AT PORT GLASGOW in 1883 as the

Turkistan

, this ship has been re-named the

Port Crawford

before her collision with the

Ditton

in 1902. A vessel of 1,660 tons gross and 1,593 tons net, the

Port Crawford

had a length of 259 ft 8 in, a beam of 38 ft 3 in and a depth of 23 ft 1 in. Sold to Norway, she became the

Margarita

, and was broken up in 1924.























































PROBABLY THE LARGEST FULLY-RIGGED THREE-MASTED SHIP ever built, the

Ditton

had a gross tonnage of 2,901 and a net tonnage of 2,699. Built at Milford Haven, Pembrokeshire, in 1891, she was 311 feet long, with a beam of 42 ft 4 in and a depth of 25 ft 8 in. In 1921, as the Norwegian vessel

Bragdo

, she made the voyage from Wallaroo (South Australia) to Queenstown (Ireland) in eighty-five days and discharged her cargo of wheat at Liverpool. She then left for Norway but was wrecked on November 2.